There's a trend circumventing the NFL that's been bothering me for the last couple of years. It's not the endless rule changes. Or the ridiculous fines levied for wearing a certain type of headphones. Or the complete lack of competent leadership at the top. Or the fact that Blaine Gabbert is still allowed to wear a uniform. Or the Violet Beauregarde-sized casts on pregame shows.
All that shit ruffles my feathers to a certain degree. But what really sticks in my craw is the laughable notion that overrated jackasses like Percy Harvin have been anointed "offensive weapons." To be a weapon suggests he makes eye-popping plays on a regular basis, and scores touchdowns, and is difficult to contain. Percy Harvin is and does none of that.
In five games, Harvin has 22 catches for 133 yards. That's a whopping 6 yards per reception. Fantastic if he was a running back, but he's not. He's a, ahem, wide receiver. Averaging 6 yards per catch. 6. But he runs too! Oh yeah, I forgot. 11 carries for 92 yards and his lone touchdown, which should have been called back if NFL officials weren't a collection of farsighted dipshits:
Make the correct call and this fearsome offensive weapon of awesomeness has 33 total touches for 203 yards and zero touchdowns in five games. Harvin supporters will point to last Monday night's 'three touchdowns negated to penalty' as proof he's a wonder of wizardry. Against the Redskins' diarrhea-filled diaper of a secondary? Nice try. Peter Dinklage could beat those safeties on a post route.
How did this superhuman highlight machine do versus Dallas last Sunday? 6 touches for -1 yard.
Harvin isn't alone in his superior set of scintillating skills. Padawan learners Cordarrelle Patterson and Tavon Austin are following his lead by doing absolutely nothing for the Vikings and Rams, respectively. Patterson's only touchdown came in Week 1 on a flukey 67-yard run. Since then he's done jack squat. Austin has 17 touches for 144 yards and zero touchdowns.
None of this terrific trio is worth starting, or even owning if I'm being completely honest. The likes of Travis Benjamin, Louis Murphy, Miles Austin, Allen Robinson, and Robert Woods have more fantasy points than Austin and Harvin.
If you can't grasp an NFL route tree, you can't play wide receiver in the NFL. Line them up in the backfield, stick them in the slot, dial up a jet sweep, call an antiquated double-reverse, blah blah blah. By resorting to gadgetry, offensive coaches are admitting these players just aren't good enough to do what actual wide receivers do every single week.
Percy Harvin and his ilk aren't offensive weapons. They're offensive liabilities. Let's stop pretending otherwise.
On to the Week 6 recap!
What a real offensive weapon looks like
Antone Smith: 23 touches, 346 yards, 5 TDs
Return of Eli Face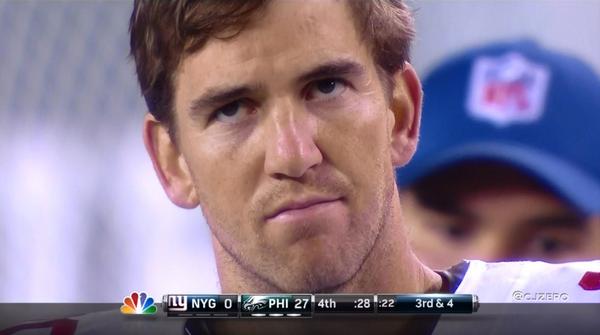 Not his best effort. Time to dig up a classic:
That's much better. Again, two Super Bowls. I'm at a loss…
Fire up the guillotine
Cheer up Falcons fans. Mike Smith is not long for his gig. He might not even last the season. And he shouldn't. Smith has a defensive background, but you wouldn't know it by watching his clown car unit on Sundays. They rank 31st in total defense — only the garbage scow Bucs are worse. This comes a year after ranking 27th overall and making zero effort to add legit talent. Even more egregious than his horrific defense is his insane running back rotation, which features four fucking guys! Only one of those guys is any good, and he's received the fewest carries among the four. Huh? Just fire this shitbird already.
Guess who's back?
Because the Panthers' backfield resembles the Colonial Marines in Aliens, Cam Newton is once again leading the ground assault in Carolina. He shredded the Bengals on 17 carries for 107 yards and a touchdown, which was better than all but five running backs in Week 6. Speaking of the Bengals…
Don't go changin' Cincinnati
Derp. To quote Pacman Jones: "Do your job." Footies are the worst.
WTF Stats
Ahmad Bradshaw, Justin Forsett, Lamar Miller, and Antone Smith are all ranked in the Top 10 in running back points through six games. Higher than LeSean McCoy, Eddie Lacy, Alfred Morris, and Frank Gore.
DeMarco Murray has 159 carries. The next closest back is McCoy with 117.
Andrew Luck and Philip Rivers have combined for 32 touchdowns. Tom Brady and Matthew Stafford have combined for 17 touchdowns.
Matthew Stafford has been sacked 21 times on 212 dropbacks, That's roughly one sack per 10 attempts. Drew Brees has been sacked 4 times on 218 dropbacks. That's roughly one sack per 54 attempts.
Keenan Allen has 28 catches for 296 yards. Matt Forte has 46 catches for 376 yards.
Larry Donnell has one catch for 6 yards in his last two games. Clay Harbor has six catches for 113 yards and a touchdown in his last two games.
The Cowboys are good
NOOOOOOOOOO!!!!!!!!
Week 6 Golden Nutsack Award – Chester Copperpots
For finally winning a game, the Pots get to cradle the Nutsack in Week 6. It was far from pretty, but Shady's best outing of the season coupled with recent acquisition Alshon Jeffery's 13.6 points was enough to bring home a .7-point victory. If Zac Stacy, Keenan Allen, and Nick Foles surgically remove their heads from their rectums, the Pots could make a run.
Prerequisite Eye Candy
For fans of the ladies.
For fans of the beefcake.
Fearless Forecasting for Week 7
Hoo-boy. My prognosticating skills need an enema. Walgreens, here I come. The envelope, please:
James Starks 60 yards, 1 TD
The Panthers are yielding 157 yards per game. Starks and Lacy both have big days.
——————-
Sud Running Back will return…