After watching all the games (yes, I watch all the games) from Week 9 of the 2014 NFL season, I came away feeling joyful over the sheer number of fantasy football treasures. So much so that I've decided to throw an early Turkey Day extravaganza. Time to slip into that pilgrim suit and break bread with a Redskin (Kirk Cousins is available). I'm thankful for…
The Bucs and Browns backfields being complete and utter quagmires.
Andrew Luck and Ben Roethlisberger shredding opposing secondaries.
Arian Foster once again proving he's totally unreliable.
Teddy Bridgewater's grade school arm strength.
10 carries, 26 yards, 3 touchdowns.
Giovani Bernard's perfectly timed hip injury.
Mark Ingram's career resurrection.
Stellar play from rookie wide receivers.
Percy Harvin once again duping people into thinking he might be good.
Names like Crockett Gillmore.
Mark Sanchez inevitably crushing the hopes and dreams of another fanbase.
The Bucs stupidly turning back to Josh McCown.
Antonio Brown and Jeremy Maclin.
Both New Jersey football teams.
Jim Harbaugh's curious coaching catastrophes.
Chip Kelly press conferences.
Jerry Jones' bloated ego.
Time to feast on the Week 9 recap.
Peyton Face
Needs work to compete with little bro.
An epidemic of mass proportions
Four current and former Jets quarterbacks sullied fields this past Sunday: Mike Vick, Matt Simms, Mark Sanchez, and Kellen Clemens. That's four Jets quarterbacks too many.
The kids are alright
Seven rookie wide receivers are ranked in the Top 50 in fantasy scoring. That list includes not one, but two Jacksonville Jaguars — Alan Hurns and Allen Robinson. Just outside the Top 50 and climbing fast are Odell Beckham Jr., Martavis Bryant, Jordan Matthews, Jarvis Landry, and Davante Adams. It would appear that this massively hyped class of neophyte pass catchers is actually meeting expectations.
Clash of the Titans
It was the New York Division-leading Lame Excuses throwing down with the Carolina Division-leading Character Assassins. in Week 9 of Gulfman League. The Lame ones were hampered by DeMarco Murray's worst outing of the season and a second straight flop from Greg Olsen. Meanwhile, the Assassins rode the legs of Matt Forte replacement Jeremy Hill and the unsinkable Antonio Brown; the duo combined for 48.7 points which helped offset Philip River's horrid performance against the Fish. Methinks these two powers will meet again down the road.
The great quarterback experiment (update)
)
I realize no one but me gives a poop about my desire to prove that quarterbacks are tremendously overrated in fantasy. That said, I'm having a blast playing signal-caller roulette in my other fake league. After 5 weeks I stood at 4-1 using the following chaps:
Week 1 – Jake Locker – 24 points (Win)
Week 2 – Geno Smith – 19.5 points (Loss – Thanks, AJ Green)
Week 3 – Kirk Cousins – 33.6 points (Win)
Week 4 – Mike Glennon – 22.1 points (Win)
Week 5 – Austin Davis – 32 points (Win)
After Week 9, I'm 6-3, tied for second in my division, and third in total points.
Week 6 – Brian Hoyer – 14.9 points (Loss)
Week 7 – Kyle Orton – 22.1 points (Win)
Week 8 – Zach Mettenberger – 22.9 points (Win)
Week 9 – Ryan Fitzpatrick – 23.1 points (Loss)
I wanted Sanchez for this week, but the Foles owner swiped him first. Instead, I'm rolling with Alex Smith versus the Bills.
WTF stats
Ben Roethlisberger has 12 touchdown passes in his last two games. The Lions have 11 touchdown passes in eight games.
The Jets defense has surrendered 24 touchdowns in nine games. The Lions defense has surrendered 9 touchdowns in eight games.
Matt Asiata has 9 career touchdowns. Three games with three scores and 33 games with zero scores.
LeSean McCoy has 349 of his 622 yards in his last three starts. His next three opponents rank 26th, 32nd, and 28th versus the run.
Antonio Brown is on pace to catch 135 balls for over 1800 yards. The only wide receiver with more receptions than Matt Forte is Antonio Brown.
Brandon LaFell scored 4.6 fantasy points in the first three games of the season. Since then he's scored 76.8 fantasy points.
Bengals botch of the week
That would be Andy Dalton tossing a ghastly pick of his own left tackle's back. Don't go changin', Cincinnati!
Week 9 Golden Nutsack Award – He-Rain
Jeremy Maclin and Gronk are straight up crushing it lately. J-Mac netted 58.5 points the last two weeks while Gronk was racking 49.4 points. Who needs healthy knees? Torrey Smith has yet to crack 100 yards, but he's found the endzone four times in his last four starts. If Colin Kaepernick stops playing like bad Michael Vick, He-Rain will be dangerous down the stretch.
Prerequisite eye candy
For fans of the ladies.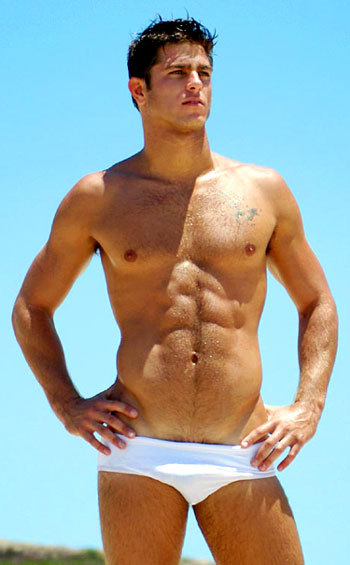 For fans of the beefcake.
Week 10 Fearless Forecasting
A much-needed break has (hopefully) rejuvenated my forecasting skills. I'm putting my money where my mouth is. The envelope, please:
Jordan Matthews: 85 yards, 1 TD
Sanchez and the rook had sweet chemistry in August. And yes, Matthews will be in my lineup this week.
——————–
Stud Running Back will return…